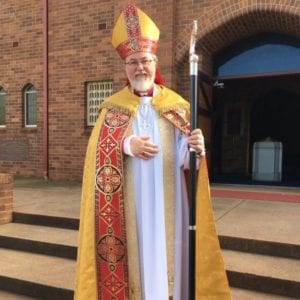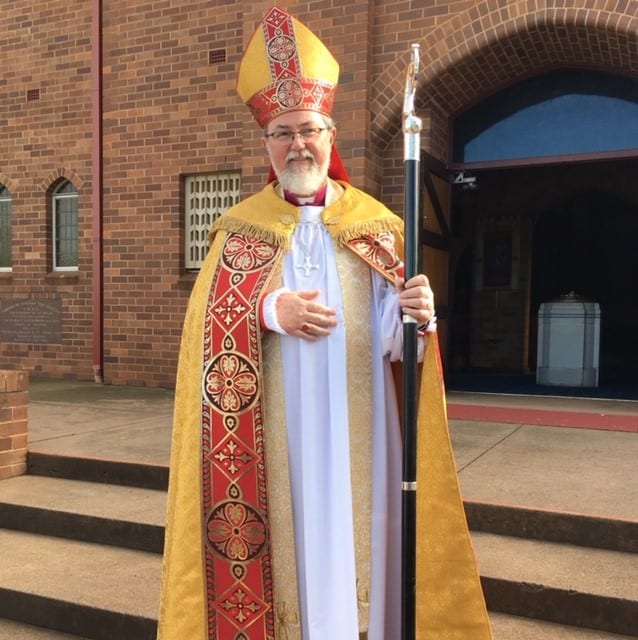 Archdeacon Donald Kingsley Kirk was Consecrated and Installed as the Eleventh Bishop of Riverina on a glorious winter morning on Saturday 15th of June at the Cathedral Church of St Alban the Martyr in Griffith.
The Anglican Archbishop of Sydney and Metropolitan of NSW, the Most Reverend Dr Glenn Davies presided at the consecration service which was attended by more than 20 Bishops and senior clergy from other dioceses in Australia as well as clergy and parishioners from the Diocese of Riverina.
Before the service began, representatives of the Parish of Hamilton in Victoria and the Diocese of Ballarat (Bishop-elect Donald's former diocese) presented the Bishop-elect to the Administrator of Riverina Diocese and Dean of St Alban's, The Very Reverend Rob Harris.
The Consecration service began with a Welcome to Wiradjuri Country and to the Diocese of Riverina by Wiradjuri elder, Aunty Gloria Goolagong.
The Right Reverend Garry Weatherill, Bishop of Ballarat and the Right Reverend Matt Brain, Bishop of Bendigo presented the Bishop-elect to the Metropolitan to be consecrated as a bishop in the Anglican Church of Australia.
In a visibly moving and ancient ritual, the Metropolitan and the visiting bishops laid their hands together on the head of the newly consecrated Bishop of Riverina while the Metropolitan prayed:
'Send down the Holy Spirit upon your servant Donald,
whom we set apart by the laying on of our hands,
for the office and work of a bishop in your Church.'
Archbishop Glenn welcomed Bishop Donald as the newly consecrated Bishop of Riverina to loud applause from the congregation and the assembled clergy.
At the conclusion of the service, Bishop Donald and his wife, Camryn and their family were officially welcomed to the city of Griffith by the Mayor, Mr John Dal Broi and the recently elected Member for Murray, Mrs Helen Dalton.
A celebratory barbeque lunch in the grounds of St Alban's was enjoyed by visitors, guests and members of the St Alban's Parish community.
The following day, Trinity Sunday, Bishop Donald preached and celebrated his first service at St Alban's Cathedral with his family and visiting friends in the congregation.