From lunchtime on Thursday 17th to lunchtime Friday 18th June Synod met in the Hall at St Alban's Cathedral Griffith. This was the First Session of the SixtyFourth Synod of the Diocese of Riverina. As such the newly elected Synod Representatives of each Parish in the Diocese met for the first time as the "new Synod".
While many faces were the same there were quite a few new faces among the Synod Members who had their first experience of Synod. The Bishop welcomed these new Members.
Because this was a First Session of the Three Year Synod Term all the positions for and from the Synod had to be elected and appointed once more. The nominations took place on Thursday and the elections took place on Friday. Among the many things discussed in Synod there were two main issues that the Synod faced:
1. Professional Standards
Synod Members looked at a draft of an updated Professional Standards Ordinance, considered an updated form of the document "Faithfulness in Service", and spoke about an appropriate Protocol for the handling of complaints in relation to such matters.
These things were presented to the Synod because it is believed there is a need to update these things to adequately respond to issues around electronic interaction, social media, and current civil legislation. The Church has to hold firm to its faith and values in its being and all Clergy and Church Workers need to know what the governing rules and guidelines are in providing ministry and pastoral care.
After considerable discussion in the Synod these documents were referred to the Diocesan Council for further work and development to best meet the needs of the Diocese.
2. Future Ministry Ideas
A proposal from the "Ministry Structure Committee" for the formation of Ministry Networks within the Diocese was present by Archdeacon Peter Richards on behalf of the committee. This was intended to be a trial over the next three to six years in the Diocese as a way of providing ministry particularly in places where it has been difficult to do so.
There was some criticism of the fact that Parishes had not been previously canvased about this proposal but it was pointed out to Synod that this Committee was formed by Synod and therefore had to report first to Synod with its findings and recommendations.
The Synod has asked this committee to continue its work and to arrange consultations with the Parishes of the Diocese to see how such a trial may be undertaken and report the results to the next session of Synod.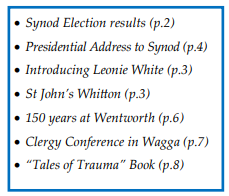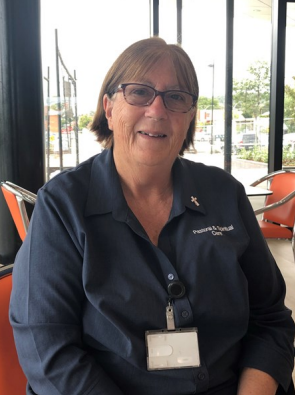 Meet the Reverend Leonie White. Leonie may be a familiar face for Riverina parishioners who have been admitted to Wagga Base or Calvary Hospital, over the years. Originally from Griffith, Leonie has many friends in the Diocese.
Having been ordained as Deacon, Leonie went on to later complete a CPE (Clinical Pastoral Education) course before commencing work in the Pastoral Care Department at Wagga Wagga Base Hospital in (2002). Her caring nature fits her well for the demands of the role as CoOrdinator of that department. "When I first met Leonie one of the things that we did together as young mums was to visit local Nursing homes in Griffith." said Reverend Louise Osborne. "I observed then that Leonie always seem to notice whether a resident needed a hand with something". Being a Hospital chaplain is a demanding role. While officially Leonie works 9-5 it is not uncommon to see her in ICU in the middle of the night or at weekends
Leonie and her team provide a willing ear, offering emotional and spiritual support to patients, their families and friends through times of grief and crisis and through the journey to recovery. "The local indigenous population have unofficially honoured Leonie with the title of "Auntie" – this is a measure of the respect of the community", remarks Rev'd Louise Osborne.
If you have a family member or friend admitted to Wagga Base or Calvary Hospital, Wagga Leonie encourages you to reach out to the Chaplaincy Team. If she is contacted about a patient in Wagga, Leonie will ensure that they receive a visit from the Pastoral Care Team. Leonie can be contacted on: (02) 5943 3523 or reached through Hospital staf
Remembering St. John the Evangelist
Whilst the closure of the 135 year old Anglican Church, St John the Evangelist at Whitton was a sad occasion for local parishioners and the small Whitton community, a part of St John's lives on through the restoration and installation of St John's bell at St Peter's, Leeton.
Parishioner Tom Eurell took charge of the restoration work which has restored the bell to its former glory and given it a new home in the Bell Tower. Fr Robert Murphy suspects the bell was originally a School bell, its shape and tone certainly bringing back memories of a bygone schooling era for elderly parishioners.
Fr Robert extended his thanks to Tracey Catlin for her assistance with the project. Tracey used her connections and resources to see the bell safely removed from its original post in the garden of St John's. "this was by no means a straightforward task" said Fr Robert.
In addition to the Church bell being preserved and restored, Whitton Museum has taken possession of the pews from St John's giving them pride of place in their museum. The altar from St John's has also found a new home at St Peter's Leeton after being lovingly restored by local cabinet maker David Annetts.
The new owner of St John's Whitton has a strong spiritual and sentimental connection to the church and feels privileged to be able to care for the Church, ensuring it remains a presence in the local community and preserved for posterity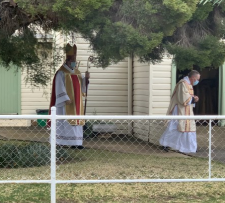 The Bishop & Fr Robert at the Farewell to St John's
Presidential Address to Synod
My brothers and sisters in Christ, What an extraordinary time it is that we are living in! The world is still in great turmoil with the ongoing affects of COVID-19 and the various new strains of that virus that seem to be developing in many countries. I can remember being taught as a child that Australia was both a continent and island. It is a nice idea, but we are now told that we can't be both. Regardless of which we think we are, the reality that we are "girt by sea" as our National Anthem sings has created a natural barrier that enabled us to be largely protected from the severe affects of the virus that we are seeing in the wider world.
There is a propensity to selfcongratulation here – being the lucky country, etc. – but such an idea misses what I believe is a truly Christian response, concern for the needs of others. We live in an age when we can see images 'live streamed' from anywhere in the world which means we see the heartfelt devastation that is being caused, for example in India with such huge infection rates and loss of life. In fact, we see it so often that we are desensitized to it. This can allow us to follow worldly thinking, "me first", which manifests itself in things like stopping or severely limiting the repatriation of Australians because they found themselves in countries where the virus had spread badly. This also shows itself in how we limit our response to neighbouring countries like Papua New Guinea where we give in a relatively small way from our surplus.
I am not saying that we should not look after each other and ourselves – we should! But we have a responsibility to all humanity. In many ways this virus is the Black Plague of our time. It has already killed over 3million people worldwide and counting! How we choose to respond to this human tragedy reveals who we truly are and what we truly believe.
The compassion that Jesus showed is the example we are challenged to follow. He was willing to touch leppers and heal them, he was willing to sit with the outcasts and unwanted, and he calls his disciples to do the same. It is a hard call – you and I need to consider asking ourselves the question: 'what can we do to help?'
One way is to support those who are supporting people in need like the "Anglican Relief and Development Fund Australia". [https://ardfa.org.au] Another way is to support the work of the "Anglican Board of Mission"
[https://www.abmission.org] in their mission partnerships. It is only when we look beyond ourselves to seek the needs of our brothers and sisters in the human race that we truly find our own needs met.
Diocesan Future
The Ministry Structures Committee, which I note the Archdeacon refers to with the better name "futures committee", has been working steadily toward finding a better way for ministry to all parts of our Diocese. We have an inherited structure of Parishes as the foundation of local ministry within the Diocese, a structure that still works well in the suburban environment of our major cities, which does not serve the rural setting quite so well.
The fundamental principle of a Parish is that it is both a centre of ministry and a financial unit that can sustain the stipend of a priest to serve there. Over the years various Churches, centres of ministry, have been amalgamated to create these financially viable units. That has caused increased strain on our clergy with distance travelled and the number of Churches and towns included in their Parish increasing.
What is even more frustrating is that within these Parishes individual Churches have kept separate accounts for each Church which in the long run only wastes time and costs money. I know that this has happened either consciously or subconsciously to preserve a sense of identity in a local community. Local identity and Church connection to a particular community is vital to our future but we do not achieve that by focussing on the control of money or limiting our thinking to just our Church or Parish.
We are called by God to be followers of Jesus and we accept that call through Baptism which graces us with the Holy Spirit, and through Confirmation where we affirm and own that calling. We live Christian lives by worshipping together, being nourished by Word and Sacrament, and allowing that presence of Christ to permeate everything we do. That way the people of our community know and recognise us as Christian. Part of our calling is to learn and grow in faith and encourage others to share the same journey with us. It is not simply a case of remembering that we are Christians as we enter Church on Sunday and then promptly leave our faith at the door as we leave the Church not remembering until next time we enter. That is the behaviour of private club membership and another example of the "me first" thinking I mentioned earlier.
One of the things that I have heard said around some Parishes is "we are too old to do anything now." To that kind of thinking I ask two questions:
1. Does that mean you are simply waiting to die?
2. Does that mean you are happy for the Church to die with you?
These are confronting questions I know, but before anyone says that it is the clergy's job to do it all, I want to point out that if it is left to one person to do it all we will not succeed. It is only when clergy and laity work together that the mission of the Church is effective. So, we cannot give up or play financial control games because neither option furthers the mission of the Church. This leads me back to the work of the futures committee. At this Synod a proposal will be presented that will create Ministry Networks comprised of Parishes grouping together to share resources and Clergy equitably. This is designed as a trial. Each Parish will maintain its own identity within the Ministry Network and it is hoped that by working together we may provide more effective ministry across the Diocese.
I might add that this is not just about the Clergy working together it is about cooperation and sharing by Lay Leaders and Parish Councils that is designed to enable us to keep ministering in as many towns and villages in the Diocese as possible. My hope is that we can also encourage more lay leadership as part of the team in these Ministry Networks. This Synod will be invited to vote on proceeding with this trial arrangement for the next three years. The Archdeacon will present more detail.
Standards and Codes
Over some considerable time we have been considering updating the documents that create our standards of behaviour with one another. There are three of these that marry together to form these standards:
1. Professional Standards Ordinance – our governance legislation which explains that there should be a Code of Conduct and Policies and Protocols established around it. The Ordinance deals with how we handle complaints of inappropriate or wrongful behaviour.
2. "Faithfulness in Service" – our Code of Conduct for all Clergy and Church Workers, that is, anyone and everyone who engages in any activity on behalf of or in the name of the Anglican Church including every member of Parish Council right through to Op Shop Volunteers.
3. The Protocol – our Diocesan policies on the implementation of the Code and the Ordinance.
The Registrar has sent out to the Synod and you have received today copies of the draft updates to these documents. The astute among you will have noticed that several different versions of these have been forwarded to Synod members which shows you that this is still a work in progress. My hope is that we can have a fruitful discussion about these and that with Synod's delegated permission the Diocesan Council that you will be electing at this Synod can properly coordinate and finalise them, and then pass them for use in the Diocese.
Provincial Tribunal
The one piece of legislation that is before us is the Provincial Tribunal Ordinance. It is here because we, like every other Diocese in the Province of New South Wales, have been sent this from the Provincial Synod. If we wish this Tribunal to be available to the Diocese then we pass the Ordinance adopting it. If we do not wish to have recourse to this Tribunal then we allow it to fail. It is up to you to decide which way to go. Ironically, either way we will be required to elect membership of the Tribunal from Riverina Diocese.
Conclusion
In the midst of all this let us never forget that we as Anglican Christians in western NSW are called to proclaim the gospel of Jesus Christ and his redeeming love for all people. In trying to discern the Diocesan future, and in dealing with Standards and Codes we are trying to clear the obstacles away so that at the local level we can focus on this gospel message. May the Holy Spirit invigorate and renew us as we strive to be faithful to our calling.
Sesquicentenary at Wentworth
On the 23rd May 2021 a wonderful day of celebration was held at Wentworth, at the junction of the Murray and Darling Rivers, to celebrate the Sesquicentenary of St John's Anglican Church. The church is the first built on the Darling River and is NSW Heritage listed. The first Rector, Rev William Cocks, was the driving force behind its construction and laboured with the builders. The church is built beside the Darling River from rough sandstone and mortar, rendered, and with locally made red brick. The ceiling and floor are Murray pine and the original pews are red cedar. The beautiful stained glass windows were made in Adelaide.
The day was blessed by being one of one of beautiful sunshine, and the community came out to help us celebrate the milestone, with a Morning Prayer in the morning, and a Eucharist led by the Bishop in the afternoon. The Bishop made a grand entrance to by arriving on a horse and cart, in true settler style. The early clergy travelled large distances on horseback to tend their remote parishioners and to celebrate baptism and marriages on scattered station properties. In between the day's services we had food and flowers and artist's stalls to browse, bush poetry recited by a local lady (The " Bush Christening" went down well) and local entertainers singing for us. There was a historical display in the church which drew a lot of local attention. The Mayor made a speech, and a local Bendigo Community Bank presented us with the promise of a cheque for $10,000 to help with the construction of new disability friendly toilets.
All in all it was a wonderful day : with God's grace we hope to go on for many years to come.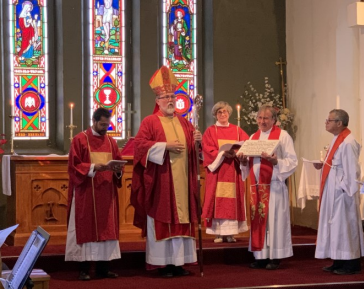 Blessing the commemorative stone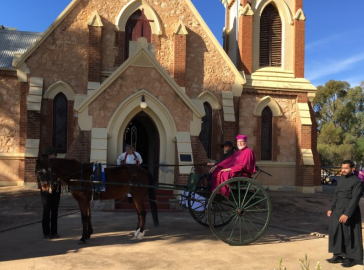 Bishop Donald arriving by horse and cart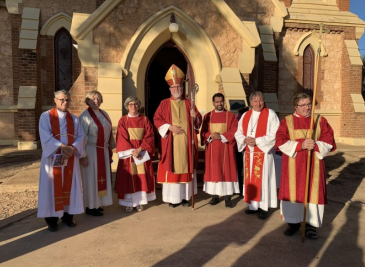 Rev'd Alan Colley, Rev'd Helen Ferguson,
Rev'd Mary-Ann Crisp, the Bishop, Rev'd Joe
Varghese, Rev'd Keith Nicholas & Server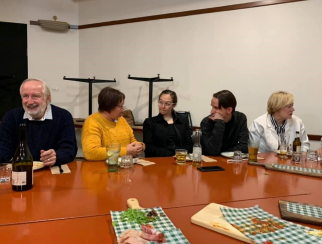 Some of the Clergy enjoying Dinner at Basil & Olive Restaurant in Wagga
Clergy Conference in Wagga
The annual Clergy Conference met on 21st and 22nd of April at St John's Parish Centre, Wagga Wagga for a day and a half of discourse, training and fellowship. After the opening Eucharist, the Wednesday afternoon session focused upon the new draft Professional Standards documents: an updated "Faithfulness in Service", and new draft protocols for responding to complaints. This was an opportunity for feedback, suggestions, and round -table discussion, which assisted in highlighting some of the areas which required further explanation, finessing, or reconsidering within the documents. The discussion also allowed the diocese's Director of Professional Standards, Ruth Bailey and the Diocesan Registrar, Louise Potter, to listen to the experiences and concerns of the clergy, enriching their understanding of how things in the Diocese have previously operated.
The conference dinner at Basil and Olive Restaurant, a chance for fellowship between colleagues often geographically far distant from one another, was a welcome relief after an afternoon of serious legislative discussion. With a number of new clergy having arrived since the COVID lockdowns, the dinner also gave room for meeting new members of the clergy, and discovering common ground. There was much laughter amongst the discussion, as the important topics of wine, church gossip, and diocesan history were shared.
Thursday's focus was an open session with the Director of Professional Standards, Ruth Bailey. Having introduced herself, Ruth then proceeded to interview Fr Walter Firth (Tocumwal / Finley), one of the newer members of the diocesan clergy, who has been involved in the redrafting of the diocesan Professional Standards documents. A launch of Fr Walter's recently-published book, 'Tales of Trauma' (available through Four Rivers Bookshop) allowed the clergy a taste of this intriguing examination of various familiar Scriptural narratives through a different lens. Copies of the book were made available for sale, clergy shared a light lunch, before returning to our parishes, The Conference provided a useful space for examination of important diocesan legislative documents during their drafting stages. It was also an excellent opportunity for the clergy to continue to build collegiality. As we look to the second half of 2021, I am sure many of the clergy will be looking forward to continuing to strengthen collegial fellowship at the annual Clergy Retreat
The Rev'd Canon Robert Murphy,
Rector of Leeton
Fr Walter Firth, author of this book talks with Rev'd Gemma Le Mesurier
Interviewer: Fr Walter, thank you for your time today. You have recently written a book called 'Tales of Trauma', if you can just briefly summarise what this book is about….
Fr Walter: 'Tales of Trauma' is a collection of twelve stories where people have done wrong things. Usually they involve people that we have tended to hold us as religious leaders or created a hero-cult status around or have some sort of positive view of. Those twelve stories are chosen because they show us of how we shouldn't be, how we make mistakes, they're not the stories that we should normally hold up as ideals. So that from these 12 stories where things didn't go right, we can learn how to be better people, more pastoral, more caring, and more open to seeing how to be there for others, so that we can hopefully create a world of how things should be. Frequently we'll pick up stories, we'll talk about the heroes, the good guys – might have made mistakes, could have worked for the baddies at one point – all of that disappears by the end of their stories, and that's what we celebrate: the hero. After all, you read something like Harry Potter, and how many people go "he is one very naughty boy who should have been in trouble for breaking all the school rules"?
You read C.S Lewis' Chronicles of Narnia, how many people actually like the final book, 'The Last Battle', when they find out that one of their hero characters from 'The Lion, The Witch and The Wardrobe' stopped believing, and so she's not there in the train station when everyone dies to get to heaven, where all the characters who actually believe end up at the end. We all like just sitting in the happy stories, and whilst they are pleasant in the moment they never give us a deeper understanding of self, or push us to try and be better because we've understood something deeper about who we are as humans.
And you said all these religious hero figures in these tales of trauma – they are Biblical religious figures, or also extra-Biblical?
The stories are all picked from the Old Testament, or the Hebrew Scriptures, and then for us as Christians there are little comments or info-blocks throughout the block that may show where some of that ties back in in later New Testament writings.
So you say from the Hebrew Scriptures. Is there a reason why you chose characters from the Hebrew scriptures, and not characters from the New Testament?
One – Who we are as Christians comes out of the stories of the faith that made up the Jews of Jesus' day. And even in today's world where people have come to Christianity, if they have come from a Jewish background, you very quickly realise that a lot of other Christians don't actually know some of the stories, or that Christians have gotten really excited about particular stories, which are usually ignored by synagogues and Jewish families.
So, that was part of it. The other part of it is that the Old Testament was shared orally for so long as story, so they're told in a way that you can easily imagine sitting around a fire, or a meal table, and telling the story of these people, whereas by the New Testament what we have kept as canon for the New Testament – they're not written as story for people to just sit around. The Gospels are! And depending on which Gospel and which passages you're reading, you can really see that story element of them, but there's only on main character of the Gospels, because they are telling one person's story, which is Jesus, and all the other New Testament writing is usually designed to try to push a community to model particular behaviour, so there isn't the story element. So if I wanted story element from New Testament people, I'd have had to actually go to extra-canonical Biblical sources to write up about the people that are actually floating around in the background. Even the apostles, who become the early saints of the church – all of their stories are expanded on, and what they do, how they give their lives to Jesus, how they become committed to the cause – nearly all of that isn't in the text we have kept, because that wasn't the purpose of the text to be put in the Bible – that was about Jesus. And I wasn't comfortable with writing in a fantastical style around the personage of Jesus, because I didn't want to make him more human than he was, or create frailties and damage that aren't there in that text, or at the other end make him too godly, and have to make everybody else in the stories failed humans, so that the people, they don't get confused as to how these characters came to be. Whereas by going to the Old Testament, there is enough story already there that slight modifications, extra detail, they pad out what could have or would have been shared orally as people were telling story.
That makes a lot of sense. Having said that, is this book appropriate only for a Christian audience, or would other people also get benefit from it?
You do not need to be a Christian to gain insight from this. The stories, because they are taken from Old Testament writings, naturally tie in with the Jewish, Christian and Islamic faiths. They could be viewed as faith stories, or, for somebody who is not of those persuasions, they can just be historical or fictional characters that are expressing particular shapes of human breakage.
There's the freedom in that because I haven't tried to say these people are real, you have to believe them, and that everything they did is 100% right – they are characters in stories; they can be treated as such. The fact that we have taken these stories and made them part of our faith story and our sacred text doesn't remove that fact, that they are characters.
What do you hope that this book will achieve?
I hope that it leads us to be more open to caring; to reconsidering how our actions and attitudes affect others; to be more supporting and have an understanding of what others may have gone through. People have experienced abuse and trauma and, for a multitude of reasons, their voices are silenced, muted, or discouraged in the world and in our churches. When people hear their stories expressed and voiced by the Scriptures, this can enable them to find and gain their own voice, for if the Scriptures talk about it, their taboo to talk about it is removed. My other hope is that by holding up these stories so publicly, we remove the ability of religious leaders being able to plead ignorance and 'past apathy' towards abuses and prevent future abuses, as much as we can, from occurring, and if they do (particularly outside of our control), then that as a community that can be a place of comfort and healing.
The sounds really good. So who do you think this book would be helpful for?
I feel that this book is helpful for individuals and groups, and can be used in a variety of ways. It can be used with young teenagers once they've been exposed to sexual consent issues – a current complaint across the Western world: I think every week there's a story of some girl, teenager or woman who is talking about the level of nonconsent in the world that they are a part of. You could use it for personal growth and reflection, as an individual. You could use it as a one off story to help initiate conversation around Safe Ministry training, or abuse or dealing with trauma. Or you can use it (whole or in portions) to form a Bible or study group to better reflect on how to be and how to do ministry around these topics. However, in saying that, we just need to be careful that if we are using it as a group, or as leaders over people who are younger or vulnerable, that we have an idea of their stories, so that we're prepared to be able to minister to them should something come up, because whenever we engage in actual conversations with real people, or talk about issues of vulnerability, pain or brokenness, there's always the potential that somebody will want to disclose their own stories, be it to share and contribute, or as part of their own healing process and journey, and we do need to be aware of that before we put people in that situation.
It sounds like it will be a very important and valuable book. If people want to get a copy, where can they acquire one?
Well, the easiest way to acquire a copy is to jump online and do a search for "Tales of Trauma Walter Firth" and it will come up. It can be purchased through Koorong direct, Amazon, or Book Depository, or directly to Arkhouse Press themselves. If people prefer to walk into a bookstore, they could just do that and order a copy. So it sounds like it's quite easy to get your hands on a copy. Excellent! Thank you very much! Your welcome!