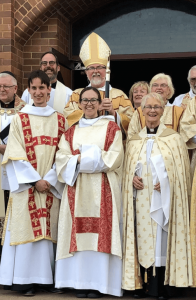 The Rev'ds Frederik & Gemma Le Mesurier after their
Ordination with Dean Anne Wentzel, Bishop Donald Kirk
and some of the Clergy present. The Rev'd Canon
Wayne Sheean who preached the Sermon is on the left.
Thursday 3 December was the Feast Day of St Francis Xavier who was a missionary to south-east Asia. This was also the day that we Ordained Gemma and Frederik Le Mesurier as Deacons in the Church of God at St Alban's Cathedral Griffith. This celebration took place on the evening of the first day of Synod and was a wonderful experience for all involved.
With the support and presence of family Frederik and Gemma were presented to the Bishop by Archdeacon Peter Richards and the Rev'd Canon Wayne Sheean who also preached the Sermon for the occasion. After prayer, exhortation and emaxination (the asking of questions about their faith and calling) they knelt before the Bishop who prayed and "Laid Hands" on them Making them Deacons. After this they were vested according to their 'Order' in Stoles and Dalmatics (as seen in the photo). These two Deacons will begin their ministry in the Cathedral Parish in Griffith.
The Rev'd Louise Osborne, who was Bishop's Chaplain for the Service, remarked that the Ordination moved her to tears and reminded her of her own Ordination years earlier. The Rev'd Neale Sommersby from Barham said that it was a beautiful Ordination Service for Frederik and Gemma with such reverence and joy in worship.
We pray that Gemma and Frederik grow into the life of ministry so that the Church of God may continue to flourish.
Transistional Dean for St. Alban's
St Alban's Cathedral Parish, Griffith has welcomed its first woman Dean.
The Very Rev'd Anne Wentzel has quickly settled into her new role as Transitional Dean of St Alban's following the recent retirement of the former Dean, the Very Rev'd Rob Harris. Prior to moving to Griffith Dean Anne was the Sub-Dean of the historic St Saviour's Cathedral, Goulburn – the 'Mother' church of the Anglican Diocese of Canberra/Goulburn.
Dean Anne is enjoying her first experience of living in Griffith where she will be based for the next three months until a new Cathedral Dean is appointed. "Griffith is a wonderfully vibrant city with a large variety of boutiques, cafes and restaurants serving the best Italian food I have ever tasted! People are friendly happy to chat and I have felt warmly welcomed," Dean Anne said.
"In Griffith my priority while the Diocese seeks a new Dean, is to love people into new life and help them move forward. Change is always challenging and it seems to be more so for people in the church. I hope I can gently help people along the way, encourage and lead them through love, compassion and kindness."
Prior to being ordained an Anglican priest, Anne taught modern languages for many years at a Sydney boys' private school.
"Naturally enough in those years long ago when there was no COVID I travelled the world living and studying in various countries and eventually returned to Australia fluent in French and German.
"More than 20 years ago I felt the need to do more studies and I left Sydney for Melbourne to study Theology at Trinity College with the hope of becoming an Anglican priest.
"What drives one to such insanity? God, of course, and never was there a second thought," Dean Anne laughed. Since her ordination to priesthood in 2000, Dean Anne has continued to make history for women in the Anglican Church in Australia. As Transitional Dean at St Alban's she is the most senior female cleric in the Diocese of Riverina. "My ministries have been for the most part in cathedrals – first as Precentor at St Paul's Cathedral in Melbourne. The Precentor is second to the Dean so as one newly ordained and the first woman to be in the role I had a sharp learning curve and I learned so much that it stood me ready for my next ministries." After serving for a short period as priest at Mudgee Anglican parish, Dean Anne was appointed Dean of All Saints Cathedral in Bathurst, the first woman Dean of a Cathedral in NSW.
"Across Australia we have broken the glass ceiling with several women as diocesan or regional bishops and we have a wonderful Archbishop, Kay Goldsworthy in Perth. There are many dedicated, highly trained lay and ordained women to help move the Church forward, especially in the fields of chaplaincies, theological and university lecturing and the Defence Forces.
"While spread far and wide we are definitely a forced to be reckoned with!"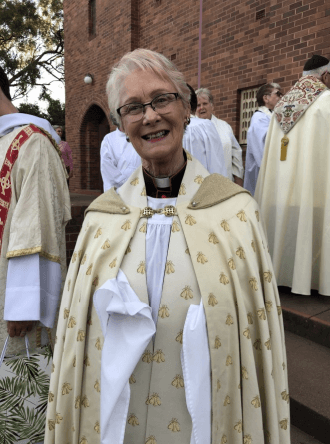 The Very Rev'd Anne Wentzel
Dean Anne believes the call to ministry is unique and a great honour.
"Every calling to a new place is exciting and challenging and you get to know people very well. They are special people with a inner yearnings, joys and sorrows. The priest in you walks alongside them, encouraging and comforting them and helping each one take another step forward in their own respective journey in life."
Quoting from a recent interview with UK theologian Martyn Percy, Dean Anne said she believes Christians need to focus more on humility and activism and in general 'do God' rather than 'do Church'.
"I agree with this. Church may be a Sunday event for those who attend but God is an hourly, daily living out and our Sunday worship should leave us with something to be encouraged by, digest and put into practice." The Bishop of Riverina, the Right Reverend Donald Kirk said Dean Anne was the best person to help; move the Cathedral parish into the future.
"Anne has a wealth of experience in ordained ministry as well as a creative spark which brings life to the liturgy. Most importantly she has a great pastoral care and concern for people," Bishop Donald said.
Bishop's Presidential Address to Synod
My brothers and sisters in Christ,
COVID-19
We come together as the Synod of the Diocese at the end of an extraordinary year! COVID-19 has wreaked havoc on our world and its people without discrimination. People of every race and culture have been adversely affected by this Pandemic. Well over 58 million people worldwide have suffered from this virus and sadly nearly 1.4 million people have died as a result.
In Australia we have been relatively lucky. Thanks to our governments seeking to limit the spread of this virus we have had less than 28,000 cases and 907 deaths. As tragic as this is these numbers are small compared to our total population of 25.5 million people.
You might well ask 'what have been the effects of this virus upon us?' Well, for one thing Synod is in December instead of May – slightly delayed. More seriously though restrictions designed to keep people safe have caused isolation and fear for many, disconnection from family particularly those interstate. We are only now able you re-establish those connections between family and friends by visiting them.
The Church has an important role to play within the community as a place of emotional and spiritual support for any and all who have or are continuing to feel fear and isolation. The message of Jesus is the message of love which is lived out in expressing that love to neighbour. We are called and challenged to do this afresh as we seek to be the Church in the Riverina. I want to encourage you to be the embodied voice and presence of Jesus within your town and community so that we can meet fear and isolation with love and connection. This is a ministry we have not simply to the people of the Parish but to the whole community. This is what we baptised Christians are all called to.
Lockdown Ministry
During the period of lockdown in NSW we began a YouTube Channel call 'Anglican Riverina Diocese.' This enabled us to record and broadcast Sunday Services while we were unable to be in Church. I want to express my thanks to all who were involved in making this possible, the Clergy and Laity of the Diocese who participated and especially the former Dean Fr Rob Harris who helped enable these Videos to be recorded at the Cathedral. Also, to Cassandra Cadorin for her professional assistance.
Water
The virus also managed to remove our focus from other things this year. Since the last Synod I joined with Bishop Columba Macbeth-Green to issue a statement on water and our need to use this precious resource equitably and sustainably. The whole water debate has unfortunately disappeared into the background and, because of the number of rain events that have occurred in recent months, some people have stopped worrying so much about it.
The simple reality though is that the problem still exists. The Darling River flowed in flood not that long ago but because of "flood harvesting" where people captured and kept flood waters on their land the lower reaches of the Darling did not receive the same benefit. I understand that at the Wilcannia bridge which is on the upper side of the Menindee Lakes the water never broke the banks in flood and has already stopped flowing. When will we replace greed with a just sharing of this precious God given resource that is essential to survival for all creation?
Former Dean
I want to speak briefly about something that might be considered "the elephant in the room." On 17 September this year the former Dean, the Very Reverend Rob Harris, was presented with allegations of serious misconduct by the Professional Standards Office of our Diocese. The serious nature of these allegations is such that I was required to issue a letter of suspension pending proper investigation and assessment of these claims. Fr Rob's response to this was to choose to resign and retire. The Professional Standards Process is ongoing with a Professional Standards Committee from another Diocese assessing the investigation report. This means an objective independent group of people will be advising me as Bishop of their recommendations in this matter.
At this stage, no recommendation regarding innocence or guilt has been made. It will take time. I ask you to pray for Fr Rob and Shanti in this difficult time, for those who have brought forward these serious complaints, and for the Professional Standards Process that in its independence it may be just and fair to all involved. As I am at arm's length from this process there is not anything else that I can say. Discussion on this issue by any of us in this forum would be fruitless and unhelpful so I ask that we do not discuss it but simply pray.
Cathedral Ministry
The life and ministry of the Cathedral continues, and I am grateful to the Very Reverend Anne Wentzel for accepting appointment as Transitional Dean for three months. Dean Anne has settled in well and the Parish is beginning to recover from the shock and grief they have felt at the former Dean's sudden resignation. Furthermore, we will have two new members of the Diocesan Clergy after tonight's Ordination. Frederik and Gemma Le Mesurier will be Made Deacons and serve in the Parish of Griffith. We welcome them to our Diocese and pray for the ministry they will share amongst us.
Ministry Structure Committee
At this Synod Archdeacon Peter Richards will be sharing with us the work of the Ministry Structure Committee that was established following a motion at our last Synod. Their work is ongoing and will help us find a better way to engage with and minister to people across the Diocese.
Looking to the Future
I am reminded of a meme I saw some months ago which said "because it has been such a bad year, we have decided to cancel the rest of 2020. We will begin 2021 next week." Sometimes we cannot wait to get out of a difficult situation. Those who have protested against the lockdowns here in Australia and around the world exemplify this. But the only way we find our way into a positive future is to live through and learn from these difficult times.
We are now on the countdown to Christmas and 2021 is just around the corner. We can see light at the end of the tunnel as restrictions continue to ease and we will have a more joyful Christmas celebration that we might have. Next year will bring new things for all of us. Let us always remember that we Christians are a people of hope; hope that is founded in the love of God in Jesus Christ that is ever present with us carrying us through life's difficulties and rejoicing with us when we rejoice. My prayer is that you have a blessed Advent, and joyous Christmas, and that the new year strengthens our hope and trust in God's love in Christ Jesus our Lord.
I conclude with a classic Anglican Prayer for the season of Advent: Almighty God, give us grace that we may cast away the works of darkness and put on the armour of light, now in the time of this mortal life in which your Son Jesus Christ came among us in great humility, that on the last day, when he shall come again in his glorious majesty to judge the living and the dead, we may rise to the life immortal; through him who lives and reigns with you and the Holy Spirit, one God, now and for ever. Amen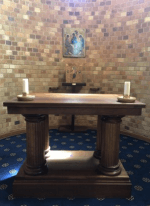 With the closure and sale of St Paul's Church in Hay, the former ProCathedral of the Diocese Sacred items have been preserved. A portion of the Altar from St Paul's has become the new Altar in the Chapel of the Holy Angels in the Cathedral as a sign of continuity between the old and the new. Other items are preserved in the Bishop's Lodge Chapel in Hay.
"Everyone then who hears these words of mine and acts on them will be like a wise man who built his house on rock." "And everyone who hears these words of mine and does not act on them will be like a foolish man who built his house on sand." (Matthew 7:24- 26)
These are the closing words of teaching from Jesus to His disciples in what is known as The Sermon On The Mount. Jesus may well have had some insight into building and foundations being around His earthly father Joseph a carpenter and builder…. but it is establishing good foundations of life that Jesus is speaking about to His followers and of how those foundations, centred on His teaching, will stay firm and will bring people to the fulfillment of Christian faith and service.
As Jesus says… if you build a house on sand it will fall down because it cannot withstand the fury and undermining of the elements, but if the house is built on rock, or these days concrete foundations, it will remain standing firm against all that is pitched against it.
So it is with our lives when we establish them on the firm teaching and example of Jesus Christ, beginning with our Baptism, learning from our parents and others, confirming the Christian Faith for ourselves and seeking to live a vocation of service to God and humanity. These foundations will strengthen us against any onslaught.
Through the whole of Jesus' sermon and in other teaching, often in parables, Jesus makes a significant point…. that the intent, appearance and action must correspond.
To be a committed follower of Christ is to listen to His words in such a reflective way that they will be always and everywhere the guide and standard of our actions. When this is our intent we will speak and act according to what we have read and heard… we will be the voice of Christ so that people will hear in us His invitation to come to Him, serve Him and share in His salvation. We will also be His feet and hands, walking towards and reaching out to others and offering compassion and hope in both spiritual and practical ways.
In todays world it is very easy to live a shallow existence, to go along with the flow and adopt the current way of society, where personal individual wants are considered more important than care of people who are in need…. even if they are family, friends or fellow Christians. Society and individuals can become so inward looking that the bigger picture of inviting others to share life with us becomes a drain on our time and an unnecessary burden that we hope someone else will bear. But Jesus tells His followers that they must do the will of God and in ways that reflect the love of The Son…. they are to love all people including their enemies, pray for their persecutors and have no thoughts of revenge for any hurt received.
It is a call to live on human terms the universal love, total forgiveness and unselfish generosity as expressed in the life of Jesus. All that He did for the poor, the dying, the handicapped, the marginalised, His followers will have to imitate, and hearing the words of God in prayer and offering Him praise can only be real when put into action for the care and salvation of others and all must do this before an unbelieving world, who rightly or wrongly see the church as unnecessary, undisciplined and unneeded.
It is into this world that God has called Frederik and Gemma, to the ordained ministry of the Diaconate, asking them to be ambassadors of Christ, serving God, proclaiming the good news, strengthening the faithful, teaching the young, searching out the careless and indifferent, encouraging all people, ministering with the sick, the needy and all who are oppressed or in trouble.
This sounds like an enormous task, and so it is…. a depth of responsibility of prayer and action, but not one that God leaves them by themselves to undertake. God has called Gemma and Frederik, they have responded, the church has affirmed their call and with the power of The Holy Spirit they will have the strength and grace to fulfill their vocation and ministry. And the church in this parish and community, the diocese and with their family, will support, nurture and encourage them to be faithful disciples for Christ and His people. At the beginning of the Bishop's exhortation to Frederik and Gemma, he says "Christ has called you to the office of deacon. You are to be an ambassador for Christ." These are indeed significant words.
An ambassador by government appointment is one who fully represents that nation wherever they are sent. They are to be nonpolitical, to function as the representative of the leader and nation from which they come and to seek out avenues in which to promote and extend the trade and goodwill of their nation. They are given chauffer driven RollsRoyces, Cadillac's or the like, live in opulent embassies and dine at the finest restaurants.
These two people will soon be ordained as ambassadors for Christ and His Kingdom. I am sorry Gemma and Frederik the diocese cannot offer you a Rolls Royce nor an opulent mansion, and on your stipend Subway is looking good. But we can give you a petrol card. Having had the privilege and pleasure of being with you in retreat I know that the temporal trappings of life are not important to you…. but what is utmost in your hearts is the awesome gift of Christ's calling you to represent Him and the Kingdom of God to all who are seeking salvation, hope and the joy of knowing Christ in their lives that leads them to eternal peace. Your call will be nurtured within a non-partisan community of faithful clergy and laity sharing the Gospel and seeking avenues in which to welcome all in need…. all who are searching.
The Ordinal also states that deacons will take their place with bishop, priest and people in public worship, and in the life and councils of the church. We gather here as the Body of Christ to praise and worship God, to receive the sacraments and to go out to do His will. It is good that in communion with this Ordination we are together as the council of the Church in Diocesan Synod.
Synod is a time for consideration of the life and welfare of the Church in our Diocese, for being guided by God in making decisions that are for the good of all people to live with and express their faith… not only those who are Anglicans but for all whom God places in our care. We discuss finances, investments and buildings, we debate over, make and change Ordinances. In this necessary governance of our Church it is all too easy to be vulnerable to evil intent, where instead of placing our Church – ourselves and our brothers and sisters whom we represent – on the firm foundation of Christian Faith, opening our hearts and minds to The Holy Spirit, we can deliberately or mistakenly start sinking into the quick sands of worldly wants of power and privilege by coercion rather than holy discussion for the building up of Christ's Church.
At the end of time, God will not judge people on the power, privilege and wealth that they have amassed, on the knowledge that has been acquired, the fame that has been won. Nor will God be impressed with prayer and praise that have no depth, or any good deeds that have been done with wrong intention. God will judge us on how we offered ourselves in unconditional love and generous giving and how we carried people to His Son for healing and hope.
When we read and hear the words of our Lord and Saviour to His disciples in Galilee, those same words of teaching are for us today and for those who follow us. We need to continue to build the house of God on firm foundations that bring hope, increase faith and share love, that will both persevere against worldly ways and work with the good of the world, so to be strong for now and future generations of Christians. Even in the distant region of western and southern NSW, we do not live in an isolated place or time apart, we live in the company of faith-filled men and women who have served and continue to serve God and humanity in many ways… and we build on their example.
Today is the Feast day of St Francis Xavier….a young Spanish gentleman who lived in the troubled times of the Reformation… quietly teaching philosophy in Paris…. when Ignatius Loyola won him to the cause of serving God. He was ordained a deacon and priest of the Society of Jesus – The Jesuits – and committed himself to the care and evangelisation of the peoples of South East Asia and Japan, where he lived his life in prayer, teaching and being a disciple of Christ, prevailing against the jealousy, greed and carelessness of those who opposed mission outreach to the poorest of peoples. Francis Xavier won many souls for Christ with a life of prayer, humility and service.
Sitting in this Cathedral tonight, we might think 'well all of this is okay for the chosen disciples who were in the presence of Jesus in Galilee, and for great saints like Francis Xavier who left the comforts of home in Europe for missionary work in Asia. But what does discipleship, call to vocation and serving God mean for us?' It means that all of us are called to be followers – disciples of Christ through the grace of Baptism and having confirmed that commitment for ourselves we join with all who have gone before us and those of the future…. in a prayerful commitment to listen to God's word and put into action His teaching and actions, His love and compassion.
We are in a similar situation to the first disciples, to Francis Xavier and other faith-filled Christians, because all of our prayers and talking has to give way to action and what we are learning needs to be put into practice. God calls us, through Jesus, to various vocations within the church and wider community. Some are called to married life and others to single life, some to be teachers, builders, lawyers, concreters, musicians, clergy, missionaries, farmers. Each person is entrusted by God to use their gifts for the service and nurture of others.
Sincerity, integrity and openness are to be the hallmarks of our lives and we need the firm foundations of life with Christ to keep us from the constant danger of pretending to be pious and religious. The prayers, worship, vocation and actions of all true Christians must be based on the life and teaching of Jesus Christ. As laity and clergy together, we need to be firmly grounded in the spiritual values of prayer, meditation, bible exploring, reconciliation and in receiving Holy Communion with pure hearts and souls.
Being a disciple of Christ….layperson, deacon, priest or bishop does not need to be an onerous task, but an abundant joy that gives praise to God and nurture to people…. sharing faith in community and reaching out to the world with the good news of Christ's love and salvation for all people.
In ordaining and welcoming Frederik and Gemma as Deacons, let us renew our life and service to God, praying for each other and for all God's people, and for the grace and strength of The Holy Spirit to enlighten and guide us.
The Rev'd Canon Wayne Sheean
To the great surprise of all, and with a sense of relief, we will all be able to sing Christmas Carols this year!
We have spent so much of 2020 unable to sing because of health restrictions that we were wondering how to bring celebratory joy to the Christmas Services in our Church. Thankfully that has changed and we can all join in our favourite Carols. This begs the question: "What is your favourite Christmas Carol?"
I have many that I really like. Most of them come from the Northern hemisphere and so speak of cold and snow. Certainly, this time of year in Bethlehem is cold but while we choose to celebrate the birth of our Saviour Jesus Christ on 25 December we cannot say for certain on what date he was born—only that we know and believe that he was born as Prince of Peace to save the world.
I am quite fond of the Australian Christmas Carols that were written by John Wheeler with music set by William G James. The collaboration between these two men created a set of 15 Carols in all that are familiar to many.
In the late 1990's I was Rector of the Parish of Colac in Victoria. Colac nestles at the foot of the Otway Range with Beech forests and steep hills and gullies. To the north of the town is the large and very flat plain that stretches from Geelong in the east to the Grampians in the west. This is where John Wheeler grew up and one of his most famous Carols describes a typical summer Christmas in Colac. It only has two verses; one speaks of the dry plain to the north and the other of the green hills to the south:
The north wind is tossing the leaves.
The red dust is over the town;
The sparrows are under the eaves,
And the grass in the paddock is brown;
As we lift up our voices and sing,
To the Christ-child the heavenly King.
The tree ferns in green gullies sway;
The cool stream flows silently by;
The joy bells are greeting the day,
And the chimes are adrift in the sky,
As we lift up our voices and sing,
To the Christ-child the heavenly King.
From childhood I can remember singing these words without really understanding them but when you realise their origin and live in the place they come from as I have they take on a whole new meaning.
Living in the Riverina we can all relate to these words—the red dust and the heat certainly but also those places on our rivers where cool water flows by shady trees. Most of all we can share the sense of joy and hope that this season brings "as we lift up our voices and sing to the Christ-child the heavenly King."
A blessed Christmas to you all!